Ranthambore Safari Tour
Enjoy the Ranthambore National Park safari with Jaipur Ranthambore one day tour package. Jaipur Ranthambore tour offers the opportunity to visit and explore Ranthambore's wildlife for tiger sighting and other key wildlife species. Exploring Ranthambore National Park is a treat for every wildlife and nature lovers.
Same Day Tour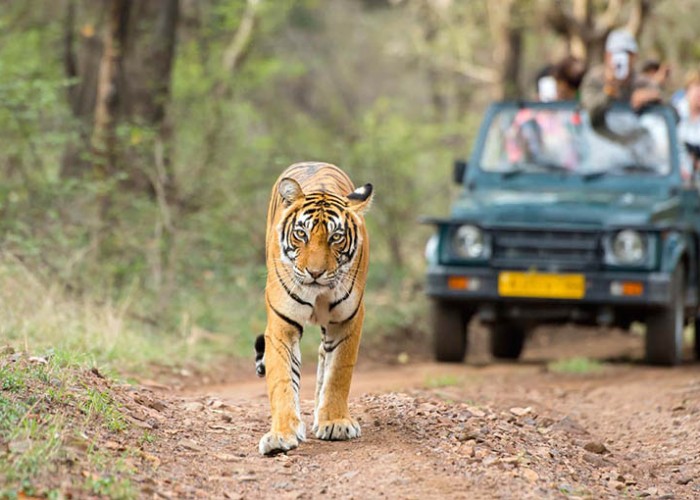 About Itinerary
Jaipur Ranthambore Same Day Tour. Full day visit to Ranthambore Wildlife Park by Car/Taxi from Jaipur. Book Jaipur to Ranthambore One Day Tour at lowest Price.
Jaipur - Ranthambore (168 Km - 3 To 4 Hours)
In the morning around 8.30 am, you will be picked-up from your desired location in Jaipur by our Pilot in an air-conditioned car as you will leave for Ranthambore. You can have your lunch on the way to Ranthambore at your desired location.
Jungle Safari In Ranthambore National Park ( Safari 3:00 pm to 6:00 pm )
Around 12.30 pm, you will reach Ranthambore National Park, which is famous all across the globe for tigers. After arrival at this National Park, you have to check-in and submit the required Identification papers for entering the forest. Later you will be assigned a gypsy to view the natural habitat of various wildlife animals like bear, hyena, deer, wild boar, leopard and tigers. After completion of your Jungle safari, Get a refreshment and then drive back to the car for Jaipur.
Travel Back To Jaipur
After exploring Ranthambore National Park, you will travel back to Jaipur.
Drop At Jaipur
On arrival at Jaipur, you will be dropped at your desired location by our company driver.